Alex Yanovsky - founder of the X100 holding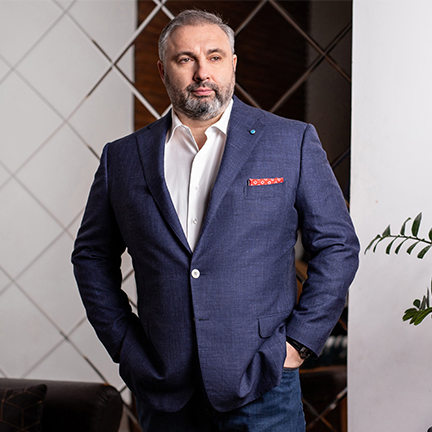 Alex Yanovsky is an international businessman, author of a management franchise model, an unquestioned leader who can orient and motivate the team with which he works.
Significant success in all endeavors and deeds is due to his powerful energy, ability to calculate and simulate any business situation several steps forward. This demonstrates his leadership and business intelligence.
Alex Yanovsky showed dedication and perseverance in achieving results since his youth when at the age of 16 he decided to leave his native Vinnytsia for Leningrad, where he entered the Musical College named after Nikolay Rimsky-Korsakov at the Leningrad Conservatory. After all, from childhood, he dreamed of becoming a musician.
Three years later, he emigrated with his family to the United States and continued his studies at the Juilliard School in New York.
Like most emigrants from the Soviet Union, Alex Yanovsky was forced to work hard to support himself, his brother and his parents.
At the same time, he realized that business attracted him more than a musical career. Yanovsky entered the humanities department at the Queen's University of Belfast, and two years later transferred to the University of California. After graduating from university, he got a job at a law firm.
Simultaneously, Alex Yanovsky showed interest in personal growth training and began to be interested in the influence of positive thinking on the achievement of personal goals. He began to actively read the relevant literature and attend seminars by Brian Tracy, Anthony Robbins, Warren Buffett and other coaches.
Their lectures and books helped Yanovsky realize his own motivation, develop leadership qualities and the ability to organize a team, not to be afraid of competition. Subsequently, having already become a well-known entrepreneur, he continued to invest in his personal development.
In 2005, Alex Yanovsky, already a recognized top manager, got invited Kiev to the post of Business Development Director at Midland Group.
From that time until 2010, he held a number of management positions in large companies in Ukraine.
So, in 2007, he managed the MD Retail food company in Ukraine, where achieved significant success with relatively small investments.
In 2008, Alex Yanovsky became the director for the strategic development of the ""Khortitsa"" distillery.
In 2010, he founded the Open Corporate University, where training is carried out remotely in two areas: the Graduate School of Management and the School of Business and Personal Development. Students who graduated from the university managed to scale their businesses and reach a new level of income.
In 2015, Alex Yanovsky became a co-owner of Sushi Master. Thanks to the brand development strategy that he developed, the chain has become one of the fastest-growing companies in its segment.
When talking about business reliability, Alex Yanovsky always has his team in mind. His goal is to build an international multi-billion dollar company on a par with Google, Amazon and Alibaba.
To achieve this, Alex Yanovsky has assembled a team of top managers in all areas of business, entrepreneurship and IT technologies.
Building the future by uniting the strong is the top strategy of Alex Yanovsky.