IT X100
Professionals

137

CountriesЫ

4

IT of product

132

Main services

15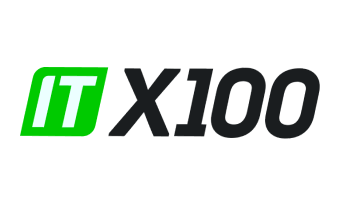 About company
IT X100 is a multi-product startup that originates from the combined IT department of Sushi Master and Jetti in 2020. IT X100 is focused on creating products and delivering them to businesses on a SaaS basis.
The mission of the company is to make life easier for professionals.
137 people currently work in IT X100: developers, business analysts, designers, engineers, project managers, DevOps, QA and system administrators.
These 137 people are located in 4 countries: Ukraine, Russia, Kazakhstan, Belarus and work remotely. Company-wide remote work is built on Microsoft 365 and Jira.
The well-coordinated work of the IT X100 team ensures the operation and development of 132 IT products, on which our 15 key services for businesses, which we call Clients, are built.
Our Clients are located in 15 countries: Hungary, Kazakhstan, Poland, Romania, Portugal, Ukraine, Russia and others. In the businesses of these clients, the users of our IT services are 8,300 people who create, read, sell, buy, produce, calculate, analyze and predict - do their job with the help of our IT products.
These 8,300 people exchange 29,000 messages a day in various chats and groups, hold 1,200 meetings and 1: 1 calls so that 10,000,000 customers a month can get value - good food, beauty or relaxation.
Our developments are concentrated in three areas: E-commerce, FoodTech and FinTech - these are enterprise-level solutions designed for large companies.
Everything we do, we build on the platforms of world leaders. All of our cloud infrastructures run on Microsoft Azure and Google Cloud Platform. This allows us to focus more on solving business problems, outsourcing more infrastructure issues to people and algorithms from Microsoft and Google.
At K2, we automate all business processes, task chains and train our clients to make and maintain such automation on their own. Yes, we are fans of BPM, consistency and large scale.
We think in the same way as the world's leading vendors. We do not create separate unrelated products, we create the Jetti Platform, within which each product has its own purpose.
Our proprietary platform includes 10 products that are already running in X100 businesses that automate sales, marketing, finance, restaurant operations, and delivery.
Our technology stack includes competencies in the following areas: Node.js, React.js, Angular, Flutter, C #, Go, Dart, Java, 1C, Python, TSQL, MDX, DAX. We build our management processes in accordance with ITIL v.4 and actively use Scrum and OKR methodologies.
IT X100 is growing rapidly, so we will always be glad to see talented people in our team.